IANTD Tek Lite Wreck and Technical Wreck Diver

with Tech Asia
Here are two IANTD Courses, Tek Lite Wreck and Technical Wreck, that will guide you through the valuable and thought provoking drills and skill set needed to perform advanced level wreck penetration dives. We normally teach these courses on the wrecks in the former US Naval Base in Subic bay.
The difference in the two courses lies chiefly in the prerequisites. though the skills and concepts taught remain the same. Tek Lite Wreck allows entry to slightly less qualified or expereienced divers and therfore the complexity of penetration dives made in training would expected to be less. Regardless of this though, dives at either level are ALWAYS going to take in to account actual student ability, awareness and comfort level.
What Will Technical Wreck Diver allow you to do?
What is it like to view the massive engines and boiler rooms of a warship built over a hundred years ago? Or peer into crews quarters containing personal artifacts evidencing life at sea almost eighty years back, lying undisturbed and in silence all this time, possibly you being the first person to ever see these things since the ship sank? These experiences can be yours, from training dives on such famous vessels such as the USS New York in Subic, to exotic trips visiting wrecks like the aircraft carrier HMS Hermes lying almost untouched off the Sri Lankan coast. Combined with your technical training, this course will take you far...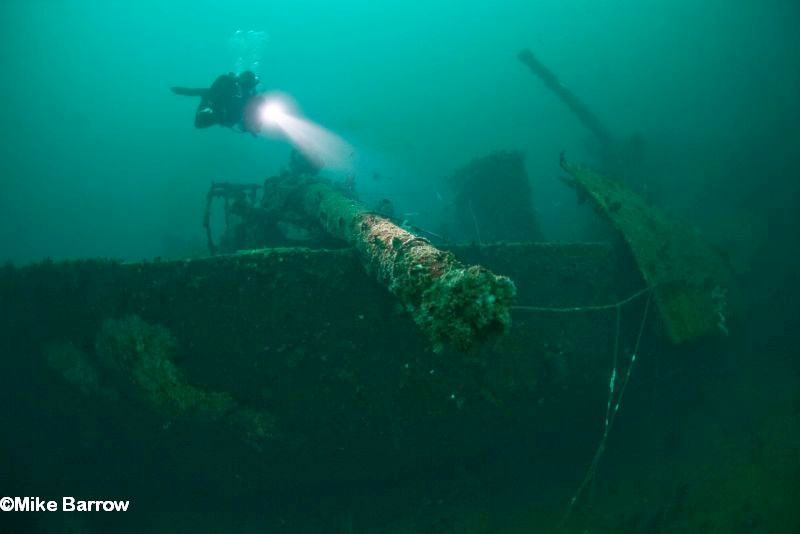 Prerequisites - Tek Lite Wreck Diver

Must be at least 18 years of age.
Certified as IANTD Wreck or Cavern Diver and Deep Diver or equivalent with 40 logged dives OR :
Certified as IANTD Advanced Nitrox Diver or equivalent with 70 logged dives.
Prerequisites - Technical Wreck Diver

Must be at least 18 years of age.
Certified as IANTD Advanced Nitrox Diver or equivalent with 100 logged dives.
Program Content and Limits
The course contains dry simulations and confined water training working on basic skills, line laying technique, communications, touch contact and emergency procedures etc.
Six wreck penetration dives, with a minimum 240 minutes of overhead environment time.
No dives deeper than the previous maximum certification held by the student.
Decompression and bottom gases based upon the previous certification of the student.
What You Will Learn
Diving inside of a wreck (or cave) creates a very different feeling to the soft 'ceiling' that you are more familiar with when making an open water decompression dive. Once inside a wreck and out of the daylight zone, there is generally no way back to the fresh air on the surface other than the way you went in. Leraning to work with guidelines so that they will get you and everybody with you back to safety even if you can't see anything, is a fascinating and satisfying experience. While standards allow for deep wreck dives to be made, for the purposes of this type of training shallower is better, since it allows so much more opportunity to practice inside the overhead environment.
During IANTD Tek Lite / Technical Wreck Diver, we aim to give you a solid base from which to grow your capabilities, and will cover such topics as :
Equipment set up and streamlining, line, spools and reels.
Light and hand signals.
Introduction to line skills in a simulated wreck.
Simulated night dive, lights and hand signals only.
Missing diver, lost line protocols and touch contact.
Gas shares through restrictions, gaps and cut line.
Gas matching, gas management, stress management, lost line drills (silt outs), anti silting techniques.
Note: As with other IANTD programs, the diver must complete and pass the written examination, complete all open water requirements efficiently and safely, and meet all criteria on the final Course Evaluation Form in order to be certified.
Equipment, Materials, What's included?
The IANTD Wreck courses are normally taught in double tanks although Sidemount can be used by those already certified.
You will find details of what is included and not included across all IANTD courses on the Overview page, however since this course is taught outside of Puerto Galera some additional costs are involved, such as equipmental rental, a share of instructor transportation costs to and from the course location, and diving costs at the dive center we will use. There is also a single person supplement if the course is to be taught for only one student. All of this varies depending on number of people involved but is typically $250-300/Php12,000-15,000 per person for the course.
Student Equipment required includes backplate and wing and regulators suitable for double tanks and usually one decompression tank, primary reel (within the team) and two spools each, primary light and two back ups, SMB, notebook, cutting device and normal personal diving gear.
A pdf manual is issued upon sign up and payment of a deposit for the course.