GUE Fundamentals

at Tech Asia
The GUE Fundamentals course provides divers of all levels with an opportunity to improve and refine their basic diving skills. If you take this class and go no further you will probably still have a higher degree of ability and control in the water than most divers you will meet, and for some that is satisfaction enough.
However, it can take you further. Fundamentals is also a prerequisite for all of GUE's advanced recreational and technical courses. Regardless of whether you are already a certified with another agency, if you aspire to GUE technical training and the fascinating projects this potentially opens up, this is where you need to begin.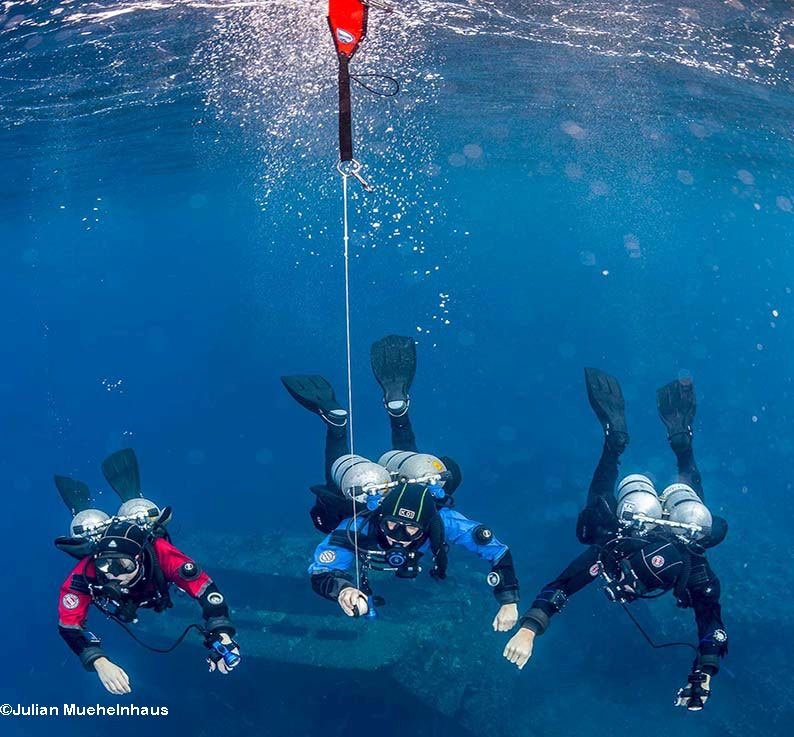 Prerequisites - the applicant must :
Be a minimum of 16 years of age.
Be physically and mentally fit and a non smoker.
Be able to swim.
Obtain a physician's prior written authorization for use of prescription drugs, except for birth control, or for any medical condition that may pose a risk while diving.
Be certified, at a minimum, as an autonomous entry-level scuba diver from a recognized training agency.
Hold insurance that will cover diving emergencies such as hyperbaric treatment, e.g., from
Dive Assure, DAN or equivalent.
What You Will Learn
You will find yourself oriented to GUE's many exciting goals and projects, and understand why teamwork is so heavily emphasized in training - it leads to greater success when it comes to the real dives outside of training.
What you cover will include for example, GUE equipment configuration and use, trim and buoyancy, propulsion techniques including backwards kick, valve management (the course can be done using a single tank or with a double tank configuration), gas sharing, and SMB deployment. The course also includes the theory and use of nitrox.
Passing the GUE Fundamentals class opens up many paths for a certified diver. The recreational pass allows you to enroll in GUE advanced recreational classes and primers to enhance your fundamental skills, from ascent control and rescue skills to managing additional dive gear and tasks. A technical pass is required for entry into GUE's Technical and Cave courses. This demands a very high level of performance and it should be noted that it is usually only achieved by people coming in to training with solid experience in double tanks already.
Expectations and outcomes are best discussed with your chosen instructor.
Course Duration and Options
The GUE Fundamentals course takes a full 4-5 days to complete. However this may not fit everyone's schedule, resources, or even training goals. Because of this, the GUE Fundamentals program is available in a Part 1 and Part 2 split format. In Part 1, divers will learn about the GUE diving system, including gear configuration, dive procedures, and team protocols, as well as refine their buoyancy, trim, and propulsion techniques. This is a 2-day, non-certification course, but successful completion allows the Part 1 diver to proceed to Part 2 when ready.
Fundamentals Part 2 can be taken days, weeks, or even months after Part 1, allowing divers to practice and become proficient with the skills and techniques previously learned. Over the course of this 3-day program, divers will continue to refine and advance their foundational skills as well as learn the theory and practice of nitrox diving. The certification outcomes of this course are same as the full Fundamentals course and enable to divers to proceed to advanced recreational, or cave and technical training.
There are usually six dives in total, two in Part 1, four in Part 2 if the course is split.