TDI DPV Diver

with Tech Asia
The TDI Diver Propulsion Vehicle (DPV) Course familiarizes divers with the considerations and skills needed to use DPV's at various levels of diving. The course outline is for recreational divers, but once requirements are met, we can add a module which gives you an orientation and training in applying DPV's at the technical level you are currently certified at.

What Will DPV Diver allow you to do?
With a DPV in hand there are almost no limits to what you might achieve. It can start easily with a fresh look at old dive sites, or perhaps being able to dive somewhere like Puerto Galera's Canyons in the heaviest of conditions with ease. Or maybe to explore where the reef seems to run out, knowing you can comfortably cruise back if there is nothing to be found. Or taking all the effort out of one of our special tech dives like the Deep Atolls.
For technical divers there comes a point where a DPV becomes an essential item. For example we've used them to video the huge 200m/660ft long wreck of the French liner D'Artagnan at 75m/250ft in the South China Sea, making dives that could never have been accomplished just swimming. Our fleet of Suex XJ-37's has allowed us to extend a Philippine cave system that we found to a current explored length of 6,062m/19,883ft. And if you really want to see something cutting edge, look at the video below on this page for a moment...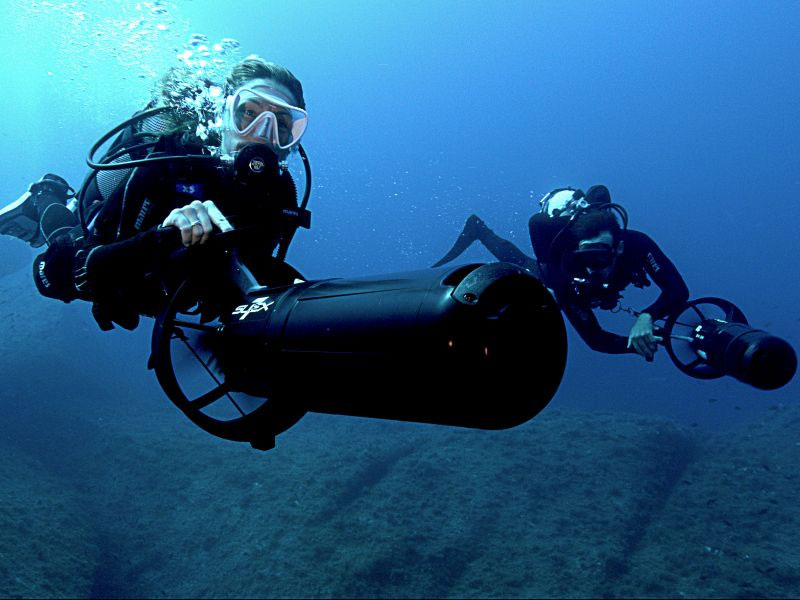 Prerequisites

Must be at least 18 years of age, 15 with parental consent.
Proof of 25 logged dives.
Minimum certification of SDI Open Water Diver or equivalent.
Program Content and Limits

Students must complete at least two DPV dives with a minimum accumulated bottom time of 60 minutes.
Dives must not exceed 40 metres / 130 feet or the depth to which the student is certified, whichever is shallower.
Additional technical training - see below.
What You Will Learn
DPV diving will add a whole new dimension to your underwater enjoyment but carries with it some complexities that you need to consider to make it safe and work to your advantage. Beyond the very obvious concerns of ascent and descent rates, you need to learn proper dive technique, think about buddy separation and communication, entanglement with your own equipment as well as what might be in the water, and navigation, so you know where you are going and more importantly, how to get back. Also rare but more serious problems such as what if the DPV floods, stops, or sticks 'on'. A number of things bear thinking about and practicing for.
If you are a techical diver already we can add extra dives once you are certified, using the full equipment for your level of training, and explore such skills as managing a DPV during decompression, SMB deployment and gas switches, sharing gas while towing another diver or failed scooter, managing lights and lines correctly and so on.
Out of the water you'll also be learning about different types of DPV's, set up, care and maintenance, burn time and dive planning and integrating the DPV effectively into your equipment configuration.
Note : Divers must complete all in water requirements efficiently and safely, and demonstrate mature and sound judgement in dive planning and execution in order to be certified.
Equipment, Materials, What's included?
The TDI DPV course can be taught in whatever equipment you are qualified to be using, single, double or sidemount tanks or even CCR. You will find details of what is included and not included across all TDI courses on the Overview page.
Use of a Suex XJ-37 DPV is not included in the cost, rental being $45 per dive. There is no eLearning option available for this course.