Technical Instructor Training at

Tech Asia
With either TDI or IANTD
Instructor Training at Tech Asia can start from the beginning, taking you in as a Divemaster and running a full instructor course to become either an IANTD Recreational Instructor, or SDI Instructor first, then progressing to technical levels when ready.
Much more commonly though, candidates would already be Instructors with a recognized agency and undergo some form of crossover training.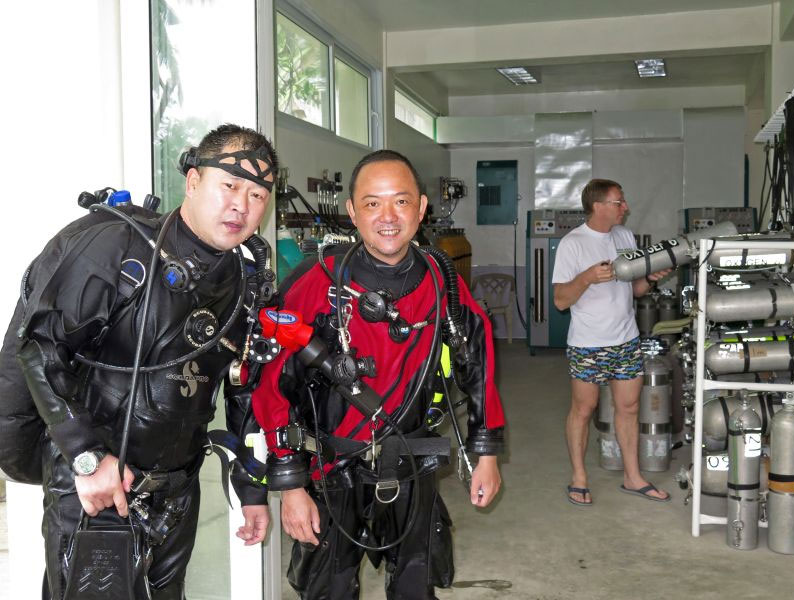 The Instructor courses we can present are the same as the diver levels that we teach. This means in the TDI system going from Intro to Tech Instructor, the Advanced Nitrox level, up through Advanced Trimix, plus Advanced Wreck, Advanced Gas Blending, and various special areas like DPV, Sidemount and Drysuit.
With IANTD, very similar, beginning with all the Essentials programs, the Tek Lite (Advanced Nitrox and Advanced Recreational Trimix), through full Trimix, Technical Wreck and the Blending programs, plus the same specialized areas. There are other Specialty ratings we could teach but those listed are most relevant to the technical diver.
Several different scenarios exist when it come to tech instructor training, with examples being :
You're not an instructor yet and want to become one.
You're a recreational instructor with a recognized agency and want to become a technical instructor.
You're already a beginning tech instructor (TDI Advanced Nitrox for example) and want to upgrade.
You want to crossover from one technical agency to another without starting all over again.
Generally once you have become an instructor at some basic tech entry level, an agency will require you to teach a number of students at that level before being eligible to enroll in the next level of Instructor training, and usually, to be certified as a diver at a higher level than you intend to teach.
However given so many different possibilities, the prerequisites, experience requirements, and equivalencies recognized are highly variable and are best discussed on a case by case basis with our Instructor Trainer.
You can contact us here or simply email dave@techasia.ph.