The GUE Tech 1 Course

at Tech Asia
The GUE Tech 1 course prepares ambitious divers to begin their path in to technical diving safely, with confidence, and with a base of solid skills and knowledge. This course also paves the way to GUE rebreather courses, to advanced technical GUE training, and to GUE project and exploration diving
Divers embarking on a technical path learn to handle emergencies and perform dives during which they will not be able to make a direct ascent due to decompression obligations. This type of diving requires an increased level of physical fitness, as there is more equipment to handle, and decompression stress is increased.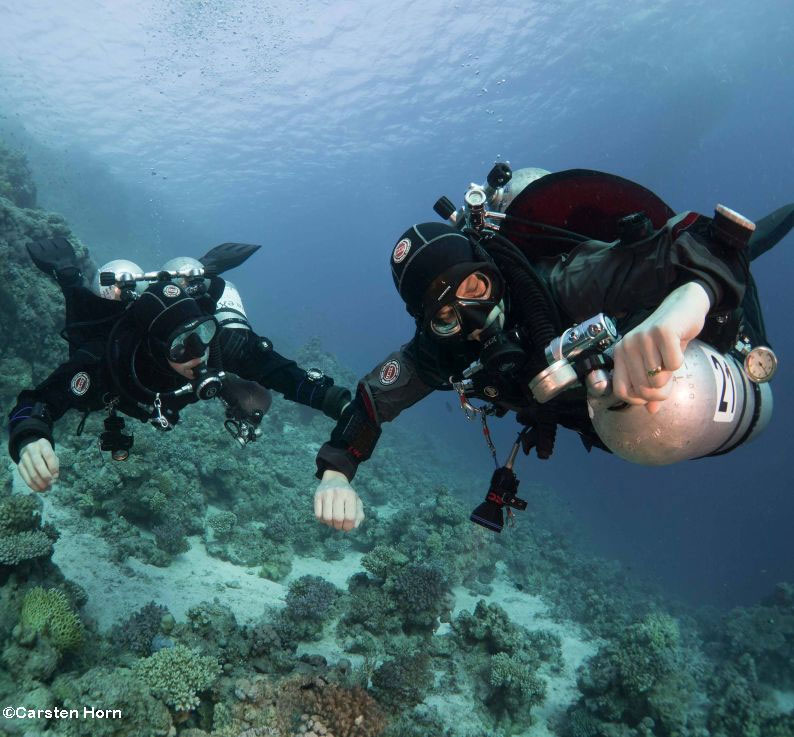 Prerequisites - the applicant must :
Be a minimum of 18 years of age.
Be physically and mentally fit and a non smoker.
Be able to swim.
Obtain a physician's prior written authorization for use of prescription drugs, except for birth control, or for any medical condition that may pose a risk while diving.
Have earned a GUE Fundamentals - Technical certification.
Have a minimum of 100 logged dives beyond autonomous entry-level scuba diver.
Hold insurance that will cover diving emergencies such as hyperbaric treatment, e.g., from
Dive Assure, DAN or equivalent.
What You Will Learn
You will, amongst other things, be learning about :
Dive planning, minimum gas, gas strategies, and gas management.
Gas properties: breathing gases, oxygen, narcosis, and hypercapnia.
Decompression theory: history, overview, and decompression sickness.
Practical decompression: general guidelines, DecoPlanner, ratio deco, and other
considerations.
Emergencies: accident prevention and management.
Land drills cover such aspects as :
Dive team formation, communication, and protocols.
Back gas regulators/valve failure modes and management.
Decompression cylinder set up, gas switch procedures and decompression cylinder failure modes.
Reel and guideline use.
Unconscious diver recovery.
All of this is intergrated in to your actual training and experience dives.
Course Duration
The Technical Diver Level 1 course is normally conducted over six days. It requires a minimum of seven dives (including three trimix experience dives) and at least 48 hours of instruction, encompassing classroom lectures, land drills, and in-water work.