PADI Tec Gas Blender

with Tech Asia
The Tec Gas Blender course covers preparation of both Nitrox and Trimix diving gases. It also looks at different blending systems and the steps of oxygen cleaning. This program will be helpful to dive shop staff and owners, and also to tech divers with a need to blend gas in remote locations such as on special projects.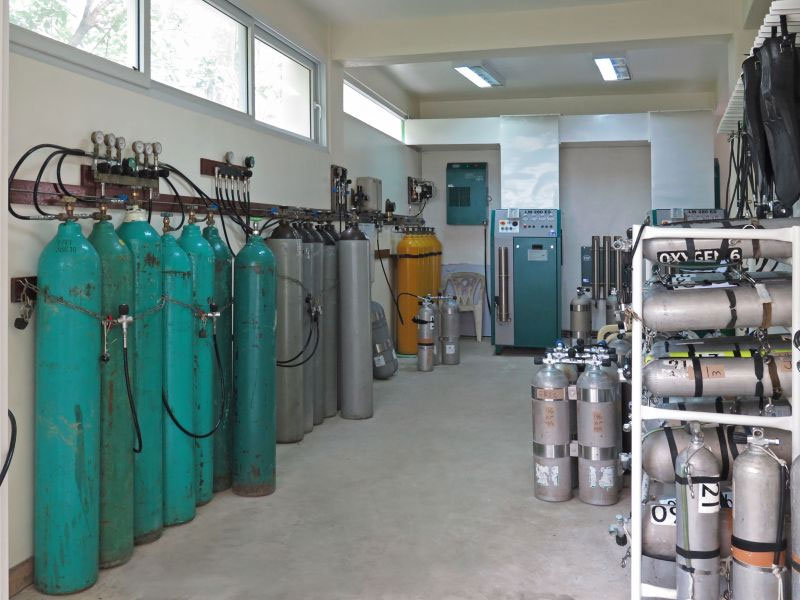 Prerequisites

Must be a PADI Enriched Air Diver or equivalent.
Minimum of 18 years old.
Program Content

Self study and Instructor review is followed by three practical applications.
Conduct the steps of oxygen cleaning and inspection of equipment.
Accurately fill at least five different blends to within 1% of intended accuracy during the course.
What You Will Learn
The course discusses not only the production of reliable and correct mixes, but also the safe handling of oxygen, and fill station protocols which enhance diver safety. We'll also give insight into blending both in large scale dive center operations, and in remote locations using portable blending systems. Oxygen cleaning and inspection procedures are taught but the courses do not qualify the student as service technicians for any given brand of equipment.
Course materials, classwork and blending practical sessions will cover such topics as :
Responsibilities of the Blender.
Diving gases and the safe handling of oxygen with respect to fire hazard.
Oxygen System design and locally applicable regulatons.
Oxygen servicing procedures.
Gas production equipment - compressors, filtration, cylinders, gauges, air quality testing etc.
Blending methods including practical hands on Partial Pressure Blending.
Gas analysis and cylinder sign out procedures.
Prior to certification the student must complete and pass the written examination, and must also demonstrate a mature attitude towards handling high pressure mixed gases.
Equipment, Materials, What's included?
You will find details of what is included and not included across all PADI courses on the Overview page, There are no diving requirements on these courses and therefore no additional costs and the PADI Tec Gas Blender manual will be provided.
Course Options
It is possible to be certified as only a Nitrox Gas Blender although most people opt for the full Trimix Gas Blender program.
The Tec Gas Blender course also makes an useful add on to any Trimix level course (PADI or any other agency you may have chosen), and would only take about one extra day to package in.
Prices can be found here.