Where is

Tech Asia

and What do we do?
Your one stop shop in Technical Diving!
Tech Asia is nestled on Small Lalaguna Beach, Puerto Galera, on the Island of Mindoro south of Manila. We have been established for more than twenty years now, it's a beautiful place to call home!
We are primarily a TDI Facility but there is much more to what we do than that. There is daily technical diving, regular overseas trips, exploration activity, and equipment distribution, sales and maintenance.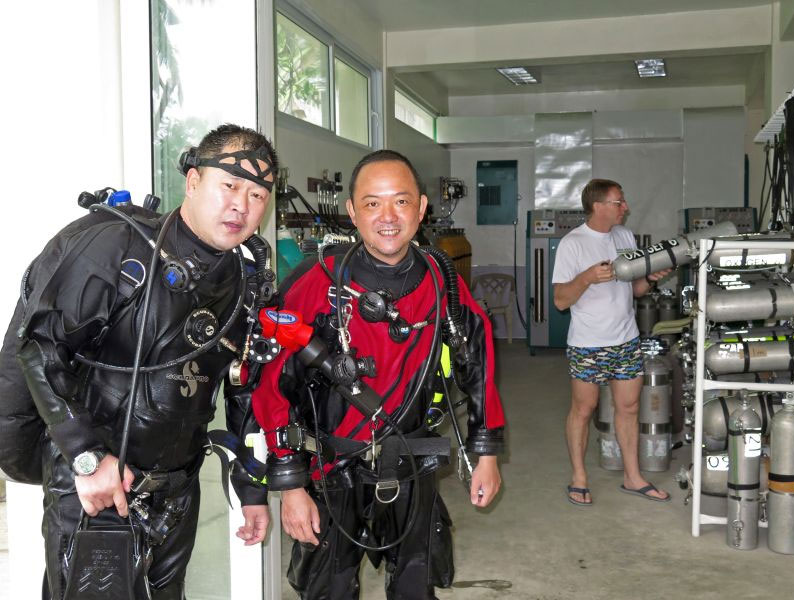 TDI Courses - These we have all the way to Advanced Trimix and Advanced Wreck, with Specilaties including Blending, DPV, Sidemount and Dry Suit. Instructor Training also at all levels.
PADI Courses - Tec 40 to Tec Trimix, Sidemount, DPV, Drysuit and Gas Blending all available on request.
GUE Courses - Not taught by us but we are a GUE Facility and host programs for many visiting instructors from Fundamentals through Tech 1 and Tech 2, Rebreather and ITC's.
The scope of our services and activities as a dive center is wide. To give you an idea....
Puerto Galera Diving - our Dive Sites are here. We've got great support staff, our gas logistics are good, and our dive sites are close, ten minutes away for a 90m dive. It's easy for you to tech dive twice a day with the surface time back on land and relaxing in the resort.
Rebreathers and DPV's - our staff will dive CCR with you if that is what you are using and we have a fleet of Suex XJ-37 DPV's here for rental use.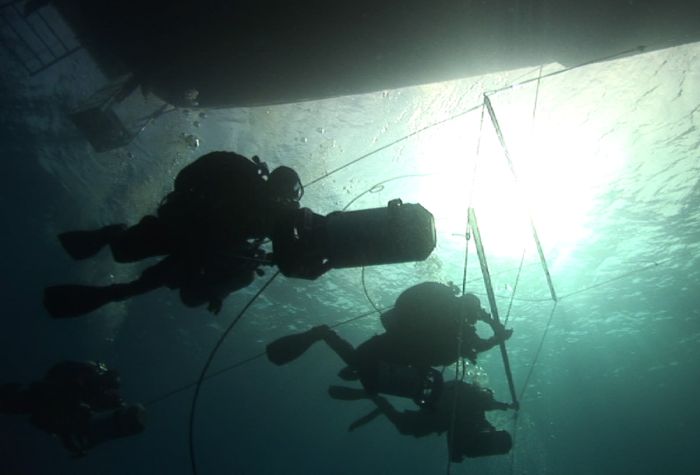 Wreck Trips - Tech Asia has run trips to many historic shipwrecks within the Philippines and overseas. Here at home for example, the obvious Coron Wrecks, The M/V Mactan, the Sagami Maru in the Gulf of Davao, and the M/V Coral Island off Nasugbu. Outside the Philippines, The HMS Prince of Wales and HMS Repulse, and the HMAS Perth and USS Houston in the Java Sea were regular trips for us before they were sadly destroyed by illegal salvors. We pioneered the use of Trimix in Sri Lanka on the still very much undisturbed HMS Hermes, and still visit her regularly, as well as having frequent charters in Truk Lagoon. Lots of opportunities with us for more....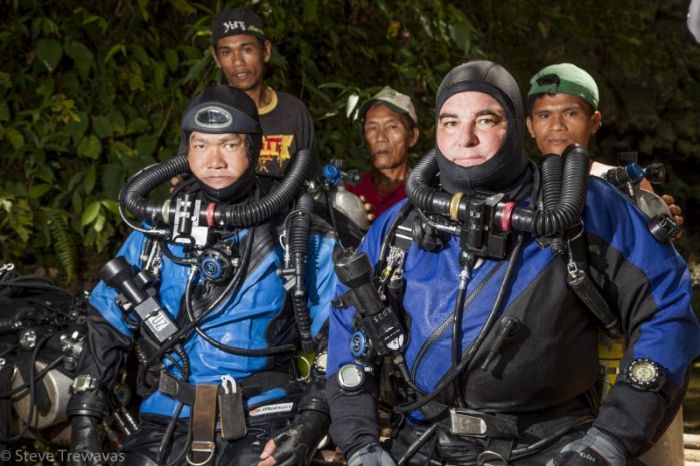 Exploration Activity - In late 2008 we began a cave exploration project which since then has blossomed, resulting in the formation of the Asian Karst Exploration Project (AKEP), a non profit organization of which Tech Asia is a founder and major sponsor. Among other things this has resulted in the discovery of a system which is currently 6,062m/19,883 ft long. We try to help intern qualified divers and bring them into the team roster.
At our facility in Puerto Galera we offer qualified servicing for Halcyon regulators, and lights, Suex DPV's, and provide drysuit inspections and basic repairs. We provide oxygen cleaning services and assemble portable systems for small scale gas blending in the field.
We are sole importers for Halcyon Dive Systems, Suex, Analox Sensor Technology, and Molecular Products ( Sofnolime ) and also authorized dealers for Shearwater Research and Fourth Element. Stock is available nationwide through our association with Ocean Dive Supply Philippines or at our online store here.
We have something for everyone at Tech Asia, beginner or experienced, why not join us?