TDI Gas Blender & Advanced Gas Blender

with Tech Asia
Two courses are available, The TDI Gas Blender covers handling oxygen and making Nitrox mixes, and the Advanced Gas Blender deals with helium and the mixing of Trimix. They can be taken separately or combined. These programs will be helpful to dive shop staff and owners, to divers with a need to blend gas in remote locations such as special projects, or simply for their own interest so that a technical diver has a better understanding of diving overall.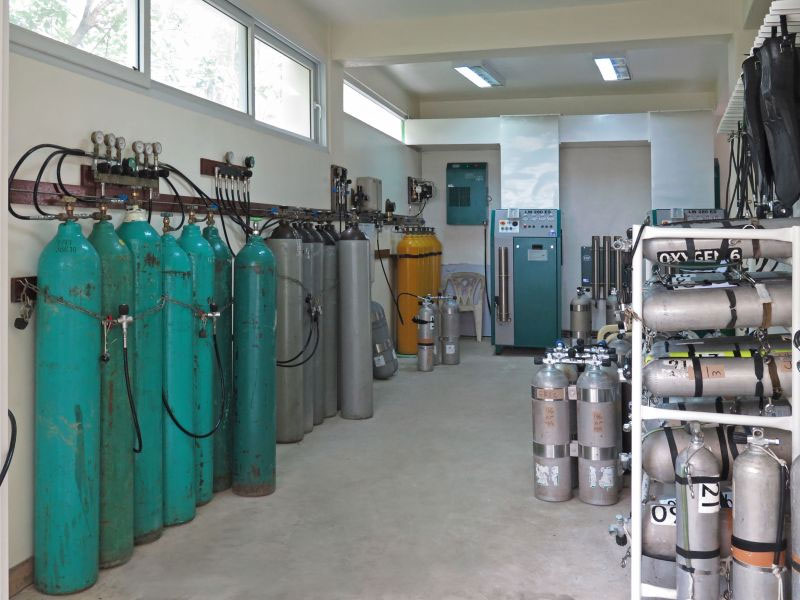 Prerequisites

Must be at least 18 years of age.
For Advanced Gas Blender must first be certified as a TDI Gas Blnder or equivalent.
Program Content

At least six hours of classroom work if qualifying as Advanced Gas Blender, covering topics as described below.
Fill a minimum of five Nitrox cylinders for Gas Blender, and additional three Trimix for Advanced Gas Blender.
What You Will Learn
The courses discuss not only the production of reliable and correct mixes but on the safe handling of oxygen, and fill station protocols which enhance diver safety. We'll also give insight into blending both in large scale dive center operations, and in remote locations using portable blending systems.
Course materials, classwork and blending practical sessions will cover such topics as :
Responsibilities of the Blender.
Diving gases and the safe handling of oxygen with respect to fire hazard.
Oxygen System design and locally applicable regulatons.
Gas production equipment - compressors, filtration, cylinders, gauges, air quality testing etc.
Blending methods including practical hands on Partial Pressure Blending.
Gas analysis and cylinder sign out procedures.
For Advanced Gas Blender - Properties of Helium and partial pressure mathematics and blending.
Note: As with other TDI programs, the student must complete and pass the written examination, The candidate must also demonstrate a mature attitude towards handling high pressure mixed gases in order to be certified.
Equipment, Materials, What's included?
You will find details of what is included and not included across all TDI courses on the Overview page, There are no diving requirements on these courses and therefore no additional costs.
At the moment, only a printed manual is available for these courses, there is no eLearning option available.
Course Options
TDI Gas Blender can be taken as a stand alone course for those who have no need to blend Trimix, or as a straightforward combination with Advanced Gas Blender if they do.
Advanced Gas Blender can be taken as a short upgrade to a TDI or other equivalent Gas Blender course as long as the student is reasonably current with what they previously learned. This course also integrates well and makes an interesting addition to higher level Technical courses such as TDI Trimix. Prices can be found here.