All About

PADI Courses

at Tech Asia
What you need to know
If PADI is your chosen agency they also have a flow of courses to move you from recreational diver through the deep Trimix levels, either backmounted or sidemounted. Clear and informative Gas Blender courses are also part of the program.
PADI Tec courses, as with other agencies, follow three general phases. The Air and Nitrox based programs, then a Normoxic Trimix level (Tec 65), then a full Trimix course for the very deep divers.
PADI Tec 40, 45 and 50 courses, which may be taken all together
PADI Tec 65 Trimix Diver
PADI Tec Trimix Diver
The Tec 40 to 50 courses work well if taken as one combined program, but have been designed so that if you don't yet have the prerequisites for Tec 50, you can take them incrementally, one by one, while you work up your experience.
PADI has two versions of their Sidemount course, one being straightforward recreational, the other is Tec Sidemount, which is what you would need if you were going to apply that configuration in the Tec courses listed above. Gas Blending is an interesting add on to all of these and we can also teach the recreational specialties of DPV and Drysuit Diver which closely align with what a technical diver might want to do.
Below we'll try and answer some of the general questions about courses with us.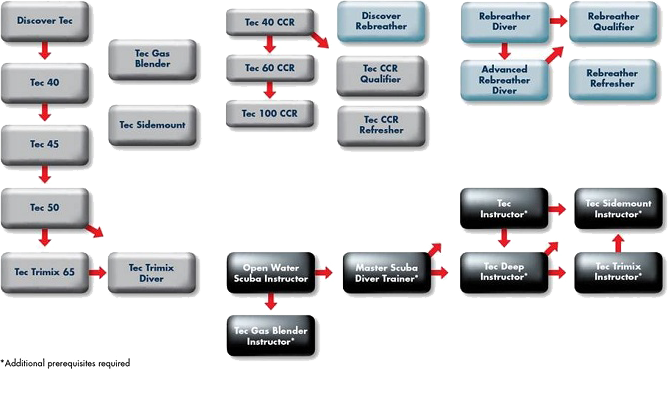 Inclusions and Exclusions
PADI courses at Tech Asia include the following in their cost:
Instructor Fees
Tanks, weights & local boat fees
Course Materials and Certification Fees
Use of backplate and wing (or Sidemount BCD)
Use of all required regulators
All air, Nitrox and oxygen Fills
PADI Courses do not include :
Personal dive equipment such as wetsuit, boots, fins and mask.
Specialized course equipment such as, but not limited to computers, reels and spools, SMB's, notebooks or slates, lights. Feel free to contact us about particular course requirements.
DPV rental if applicable.
Helium fills if applicable.
Diving and Instructor expenses if courses are conducted away from Puerto Galera.
The Learning Materials You Need
There is one Crew Pak to cover Tec 40, 45 and 50, and another to cover Tec 65 and Tec Trimix and PADI requires that we supply these to you. If you choose to source these ahead of time please keep the receipt from the PADI Dive Center where you purchased them so that we can give you some credit from the course fee. We may also send you in advance some supplemental material to complete before you arrive.
Some General Points
Course Prices : Course Fees, diving rates and equipment rental fees can all be found here.
Before you start :
You will need to have a Medical Statement signed by a Physician. We can help you do that here but if you have time before you arrive we will send you the Medical Form in advance or you can download the pdf
here
.
Important Note : In order to be certified, divers must complete and pass the written examination, complete all open water requirenments efficiently and safely, and demonstrate mature and sound judgement in dive planning and execution. If a diver is having problems meeting skill requirements, extra training dives may be charged over and above the course fee.
Prerequisites and Equivalency : If you are certified by another agency and wish to take a PADI course there is usually a clear equivalency recognised and honored. The reverse applies too, if you start your journey with PADI and subsequently wish to take an IANTD course for example, your certification would be recognized.
Insurance : Diving Accident Insurance is highly encouraged. We have a well developed emergency assistance plan but in the unlikely event you needed medical assistance this can be expensive. Dive Assure offers comprehensive primary insurance for technical divers, any depth and gas, either for short term or annually.
Examples of coverage available are :
Up to a week - $49.00
7-14 Days - $59.00
15-30 Days - $89.00
Annual - $129.00
You can review it and sign up here :

Anything that you can't find on the specific course pages, just contact us and we'll get back to you as soon as we can. We hope to see you soon at Tech Asia!