All About

TDI Courses

at Tech Asia
What you need to know
TDI has a great progression of courses to take you from entry to technical diving through to the most advanced levels.
The TDI Intro to Tech course has trememdous value to most people starting out. From this platform there is generally a three step pathway through the deeper levels of diving :
TDI Advanced Nitrox and Decompression Procedures, or Advanced Nitrox and Helitrox combined.
TDI Trimix Diver
TDI Advanced Trimix Diver
Along the way you can branch out into specialized areas that interest you, be it DPV Diving, Advanced Wreck, Sidemount, or maybe Gas Blending. We also train Instructors. Have a look at the Flow Chart for ideas.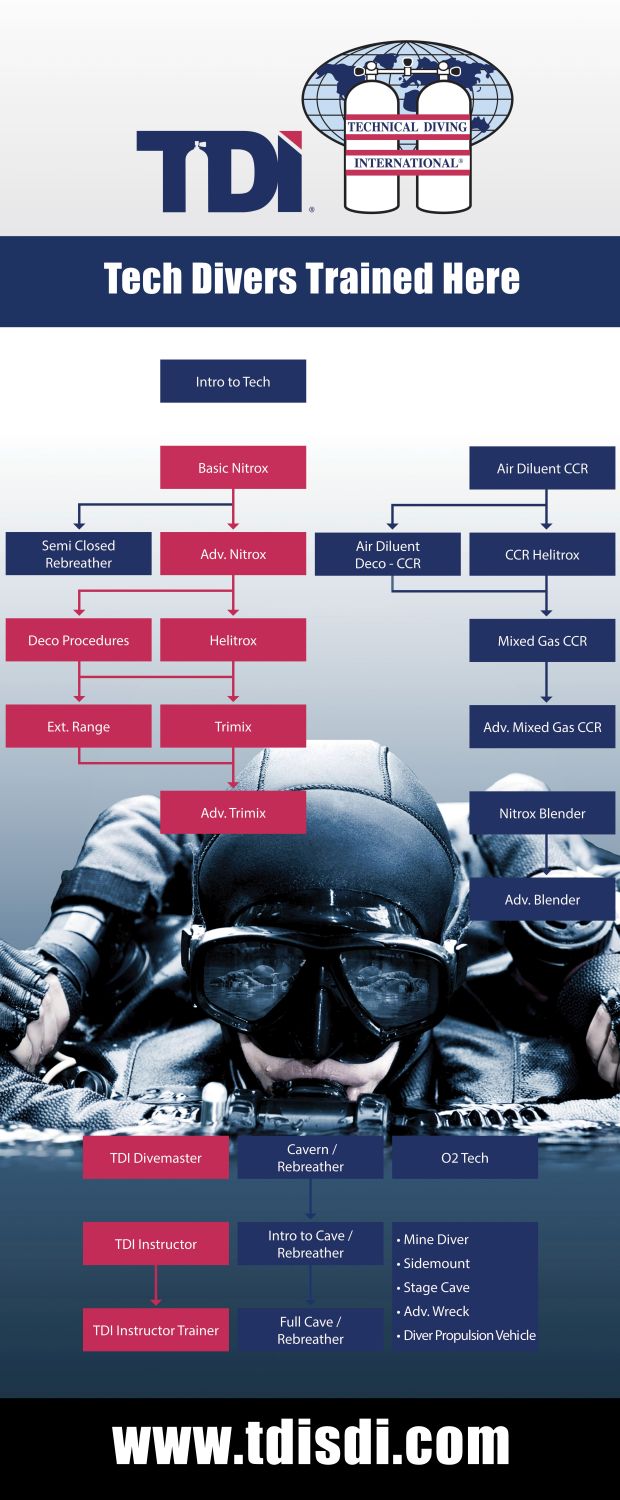 Below we'll try and answer all the general questions you may have about taking a TDI Course with us.
Inclusions and Exclusions
TDI courses at Tech Asia include the following in their cost:
Instructor Fees
Tanks, weights & local boat fees*
Course Materials and Certification Fees
Use of backplate and wing (or Sidemount BCD)*
Use of all required regulators*
All air, Nitrox and oxygen Fills*
* Advanced Wreck Courses are taught in Subic Bay. Diving fees and equipment are charged separately, please see specific course details, or ask us for clarification.
TDI Courses do not include :
Personal dive equipment such as wetsuit, boots, fins and mask.
Specialized course equipment such as, but not limited to computers, reels and spools, SMB's, notebooks or slates, lights. Feel free to contact us about particular course requirements.
DPV rental if applicable.
Helium fills if applicable.
Diving and Instructor expenses if courses are conducted away from Puerto Galera.
The Learning Materials You Need
In many cases TDI offers two options. Either we can provide you with manuals for courses in hard copy when you arrive, or, you can sign up for the eLearning option and get ahead before you travel. Coming soon are pdf versions of some manuals which will also be included for download with the eLearning option.
Please note that eLearning does NOT replace the instructor presentations in the course. It allows you, like reading the manual, to be better prepared on arrival. If opting for eLearning we will issue the instructions and access codes upon receipt of a small deposit.
For any questions on learning materials and equipment, please contact Tech Asia.
Some general points
Course Prices - Course Fees, diving rates and equipment rental fees can all be found here.
Before you start : You will at some point need to register with TDI and create a profile, then Affiliate to Tech Asia to receive eLearning materials and to be certified. Registration along with a video tuturial is found here.
Important Note : In order to be certified, divers must complete and pass the written examination, complete all open water requirenments efficiently and safely, and demonstrate mature and sound judgement in dive planning and execution. If a diver is having problems meeting skill requirements, extra training dives may be charged over and above the course fee.
Prerequisites and Equivalency : If you are certified by another agency and wish to take a TDI course there is usually a clear equivalency recognised and honored. The reverse applies too, if you start your journey with TDI and subsequently wish to take an IANTD course for example, your certification would be recognized. By all means contact us with questions, or reference this section of the TDI website.
Insurance : Diving Accident Insurance is highly encouraged. We have a well developed emergency assistance plan but in the unlikely event you needed medical assistance this can be expensive. Dive Assure offers comprehensive primary insurance for technical divers, any depth and gas, either for short term or annually.
Examples of coverage available are :
Up to a week - $49.00
7-14 Days - $59.00
15-30 Days - $89.00
Annual - $129.00
You can review it and sign up here :

Anything that you can't find on the specific course pages, just contact us and we'll get back to you as soon as we can. We hope to see you soon at Tech Asia!