IANTD Technical Diver

with Tech Asia
The IANTD Technical Diver course is for those who wish to conduct more advanced dives but don't have access to Trimix. There is a strong emphasis on solid procedures and skill development, since as you move deeper, diver responses to any issues that occur need to be very well fine tuned.
Experience, familiarity with procedures and equipment, and comfort, are the key to having fun and diving safely. The course dives are conducted on air or nitrox and using up to two decompression gases..
This course is not a prerequisite to IANTD Normoxic Trimix Diver, it is an alternative. Should you wish to move directly from IANTD Advanced Nitrox to Normoxic Trimix Diver this is possible and a wise option. Both Technical Diver and Normoxic provide entry to the higher level IANTD Trimix course.
What will IANTD Technical Diver certification allow you to do?
What does being certified to 51m/170ft bring you? Well, this diving range offers a great deal, being a realm that still allows a good balance of bottom time, easily up to half an hour, without decompression becoming too long, given that multiple decompression gases can be used.
In Puerto Galera itself this course will get you to places on our outer reef which are absolute gems. Sweetlips Corner, Markus Cave, The Fishbowl, and the awe inspiring Secret Reef, or Blackfish Pinnacle on Verde Island. Check out our Dive Sites map for more. Elsewhere in the world, ships rarely sink in shallow water, nor last long if they do. For the Technical Diver, a great place to visit would be Truk Lagoon, home to one of the highest concentrations of unsalvaged shipwrecks to be found anywhere in the world, and spanning all depths from almost the surface to over 50m. This is just the kind of opportunity we learn to technical dive for!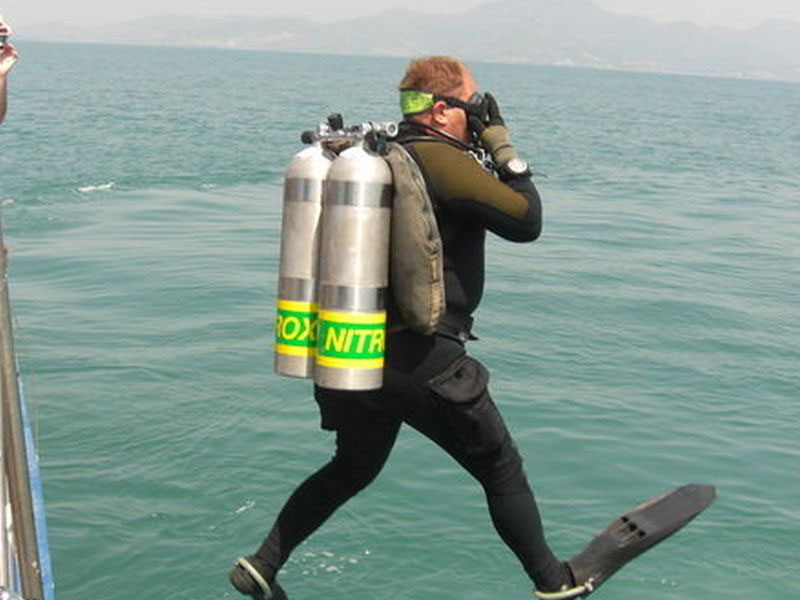 Prerequisites

Must be at least 18 years of age.
Must be certified IANTD Advanced Nitrox or equivalent.
Proof of 100 logged dives with at least 30 being deeper than 27m/90ft.
Program Content and Limits
Confined waterwork will be completed dealing with equipment set-up, handling and dive technique, plus emergency skills and stress management exercises.
Four decompression dives, at least two of which are between 40m/132ft, and 51m/170ft.
Bottom PO2 limited to a maximum of 1.4 ATA, decompression gas PO2 will not exceed 1.6ATA. Two decompression gases may be carried.
What You Will Learn
During the IANTD Technical Diver course you will expand on what you learned during your Advanced Nitrox. Dive planning becomes more involved due to depth and loss of gas scenarios that need to be considered, and exposures are higher. Further fine tuning of equipment may be required to make sure it is really helping you in the water. During the classwork, land drills and in water you will learn about :
Equipment configuration and dive technique.
Advanced Dive Planning and Gas Matching.
Risk analysis.
Respiratory physiology.
Understanding Oxygen, Narcosis, CO2 effects etc.
Decompression theory and DCI avoidance and management.
Note: As with other IANTD programs, the diver must complete and pass the written examination, complete all open water requirements efficiently and safely, and meet all criteria on the final Course Evaluation Form in order to be certified.
Equipment, Materials, What's included?
You will find details of what is included and not included across all IANTD courses on the Overview page.
The IANTD Technical Diver course is normally taught in double tanks although Sidemount is also an option for those already certified. Two decompression tanks are generally used. A pdf manual which also covers Normoxic Trimix is issued upon sign up and payment of a deposit for the course.
Course Options
In the IANTD progression the diver has a choice of taking either Technical Diver or Normoxic Trimix Diver. Being air based, Technical Diver is depth limited at 51m/170ft. IANTD Normoxic Trimix Diver is fundamentally the same program with the obvious inclusion of mixed gas and a depth limit of 60m/200ft Time taken is the same. During the Normoxic Trimix course you can expect a helium cost of roughly $250-300/Php12,000-15,000, not applicable for Technical Diver. Which is best for you? Please do contact us to discuss.