IANTD Advanced Nitrox Course

with Tech Asia
Take the exciting first steps in technical diving with this course over just a four day period! The program gives a thorough grounding in deep diving theory and technique, and the diver is taught how to plan dives beyond recreational no-decompression limits safely. The advantage of nitrox use is explored both as a bottom gas and for improving decompression. The depth range of the training dives is perfect for many unusual dive sites that other visitors to Puerto Galera rarely get to see.
This training is prerequisite to the IANTD Technical Diver or Normoxic Trimix courses and above, and to various levels of CCR (rebreather) training.
What will IANTD Advanced Nitrox allow you to do?
Depending on prior experience this course may or may not extend your depth range but it is certainly going to extend the time you have on the bottom. The techniques you learn, the equipment that backs you up, and the gas carried can hugely extend the bottom times you are able to do especially in that range of 33-40m/110-130ft where even diving nitrox your bottom times remain frustratingly short. Where we dive locally this can give you some great experiences around reefs like Odie's, Mahmouds, Horsehead or the Fishbowl. Where we dive abroad, this level would give you the gateway to some phenomenal diving for example in Micronesia's Truk Lagoon....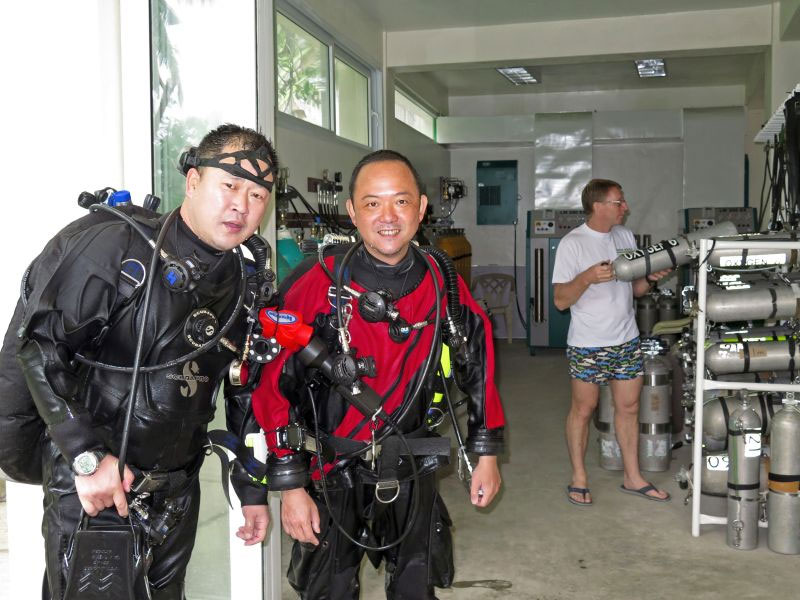 Prerequisites

Miniumum age is 18 years old, or 15 with parental consent.
Miniumum of 30 logged dives.
IANTD EANx Diver and IANTD Deep Diver or equivalent.
The IANTD Deep Diver may be taken combined with this course.
At the Instructors discretion, Tek Lite Essentials may replace the Deep Diver requirement.
Program Content and Limits
Max Depth 40m/132ft
Additional to confined water, four open water dives to be made with at least two between 30m/100ft. and 40m/132ft.
If combined with Deep Diver, confined water plus six open water dives must be made with three between 30m/100ft. and 40m/132ft.
Dives will use a single decompression gas.
What You Will Learn
With this course you are really taking your diving knowledge to a new level, not just with diving procedures and technique, but with fascinating insights into your physiology and how your body works underwater... In class, during drills and in water you will learn about :
Basic Nitrox - fully understanding how it works.
Advanced equipment configuration, buoyancy, swimming and streamlining technique.
Stress management, respiratory physiology and diver safety.
DCS and decompression theory.
Oxygen - benefits and drawbacks.
Dive planning and gas management.
Routine skills required in technical diving, as well as handling in water emergencies, and injury management.
Note : As with other IANTD programs, the diver must complete and pass the written examination, complete all open water requirements efficiently and safely, and meet all criteria on the final Course Evaluation Form in order to be certified.
Equipment, Materials, What's included?
You will find details of what is included and not included across all IANTD courses on the Overview page. The IANTD Advanced Nitrox course would be taught double tanks or sidemount if the diver is qualified to use this configuration. A single decompression gas is used during ascents at this level of diving. A pdf manual (also for Deep Diver if combined) is issued upon sign up and payment of a deposit for the course.
Course Options and Duration
The Advanced Nitrox course takes four full days to complete. If you don't have the Deep Diver prerequisite we will integrate the material and cover all requirements, and this will now take five days and result in both certifications being issued.
For the new technical diver, there is another choice to consider. Instead of Advanced Nitrox, you may go directly to Advanced Recreational Trimix, which introduces mixed gas diving right from the beginning and is an outstanding entry level tech certification. The details are here.
Any questions at all, please do contact us.