As good as the classic black BC systems look, and as popular as they will always remain, there are always divers who will want to own something with a splash of colour and/or maybe totally unique to themselves.
Realizing this around eight years ago, the Custom Wing option was introduced and at the time of writing there are twenty five different colours and four different logo patches in the repertoire. For a three panel wing like an Eclipse 30 you could in theory create over 60,000 different combninations. Now, if you put Flourescent Orange, Pink Camo, and Purple together with a Blue Logo you might end up with something that looks like Frankenstein had a hand in it....but there are many, many combinations that can look absolutely fantastic and you can be pretty sure yours will be the only one of them you will ever see.
Where to start with designing a wing? Well if you have seen one that you like, then all well and good and you can base your ideas on that. If not then you'll need a bit of guidance.
Sitting on Halcyon's website is a very clever wing design tool that lets you input wing size, and what you want by way of Front, Back and Gusset (side) panels and it'll pop up an image of how the wing will appear. You can even add in the logo patch.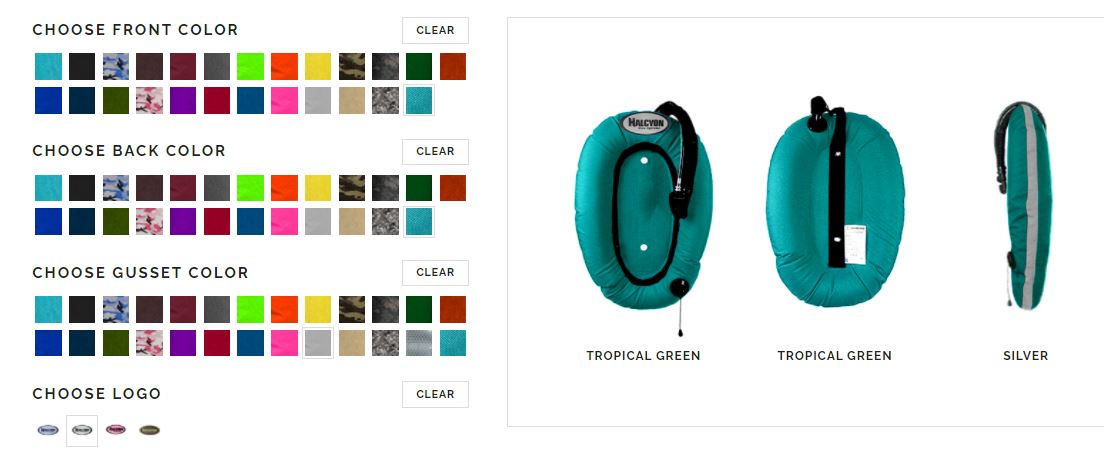 For Single tank Wings shown above you'll find it here. Designing Evolves for doubles happens here. Top Tip...if you are in the habit of diving inside such majestic places as the engine room of the USS New York, do not choose Shocking Pink as it will not be that colour for very long! Considerations like that aside go right ahead and be as bold or as subtle as you like.

Once you're done with the colours it's now "only" a matter of choosing Eclipse, Infinity, Adventurer, Traveler Pro, steel, aluminium, standard or small..... and what colour webbing you'd like to have. Easy! Just ask us and we'll help you out! Emails to info@techasia.ph always welcome on this.