Around the year 2005, stories began circulating of a relatively unknown Japanese war wreck being dived just outside of Davao City, in the far south of the Philippines. Curiousity aroused I poked my nose into this a little further and came across this story, https://www.shipwreckworld.com/articles/the-sagami-maru-and-the-uss-seawolf , of the Sagami Maru, as told by Carlos Munda, an instructor and also very well informed member of the Mindanao diving community. Here we had a large Japanese freighter, sunk by the incedibly bold actions of the US Submarine Seawolf , deep but close to shore, and near a large city with good infrastructure.
At that time Tech Asia was also part of a company called Underwater Exploration Productions (UEP), something we'd formed with the intent of filming for television broadcast. This is far harder of an endeavor than we imagined and in the end went nowhere, but this at the time, coupled with divers curiousity, triggered us to organize a trip to Davao.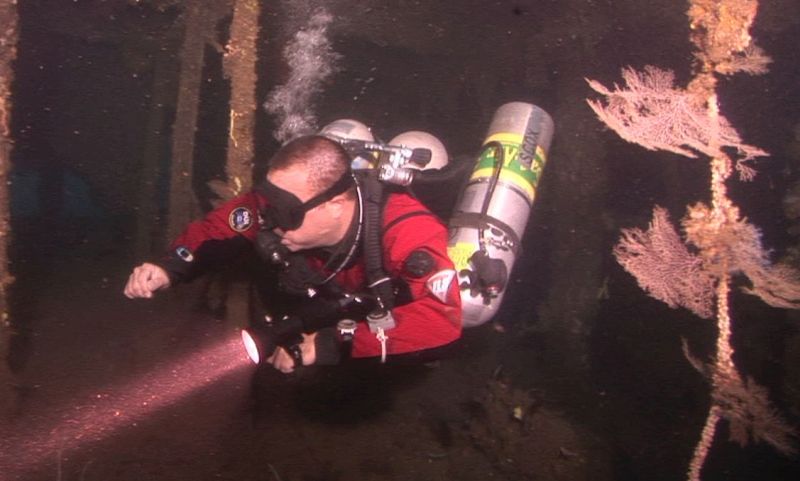 This took place in December 2006. Gas was shipped ahead and traveling with Dave were Martin Lorenzo, Yoon Ho Song and Steve Cox. Local host dive shop Wind and Wave Davao displayed tremendous hospitality and trust in us, making no fuss about four guys dumping 200kg of gear in their shop, taking over their blending facility and reconfiguring all their nitrox tanks into twin sets and decos for the weekend.
The dives were very good, this 7,000 tonne freighter sat upright with all her kingposts still standing and thus very picturesque even in the murky water conditions. Reached at a little over 40m, local accounts had put the maximum depth of the wreck as deep as 90m. This must have been an estimate by somebody sitting on the deck and peering over the side of the huge hull and taking a narcosis fuelled guess, because her deepest point turned out to be a more manageable 73m at the stern on the seabed. The superstructure was relatively open but still not without it's hazards of dangling cables and wires. the working areas of the ship, engine and machine rooms, were extremely subject to percolation from the bubbles, as likely nobody had ever been in there before. A great deal of care was needed to dive safely. The conditions weren't well suited to filming but were fun nonetheless.
With the pioneering trip done and some extra helium stored at Wind and Wave, Sam Collett lead two more groups to the wreck over 2007 and 2008. Interestingly he also encountered local divers on the site every morning. The wily old Mario and his boys from the village on the shore of Talomo Bay where the ship lies. Down they would go, in single tanks of probably not very clean air, wooden fins, ripped out wetsuits and leaky regulators for a 12 minute dive at 60m or thereabouts. Just long enough down there in the gloom to find a few kilos of loose steel and have it winched up. This low scale salvage seemed to have very little impact on a seven thousand tonne vessel and nothing really looked any different from 2006 to 2008.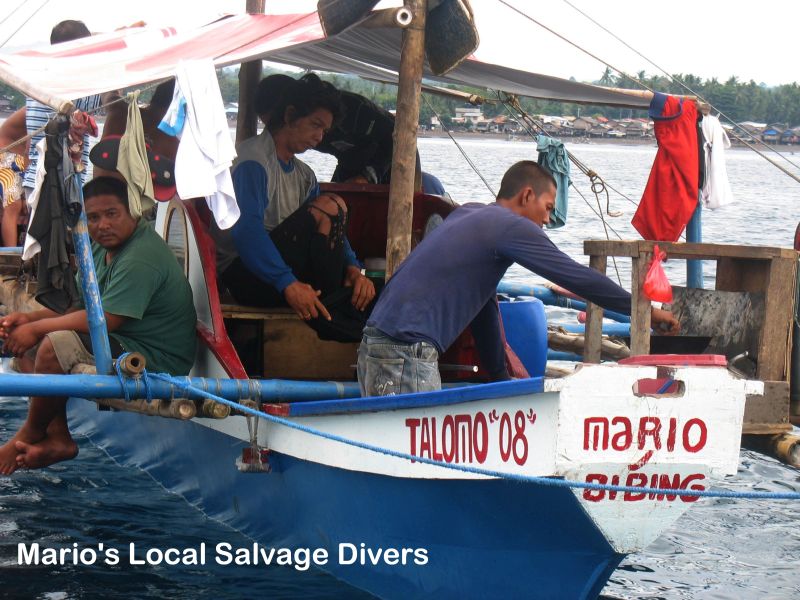 Everyone enjoyed both general tours of the ship, and poking around the engine and machine rooms, trying to find ways through to the cargo holds, and looking for the torpedo damage. The divesite itself has a dramatic backdrop, the cloud capped peak of Mt Apo, the Philippines tallest peak, looming large over Talomo Bay. For the first time here, I found my mind wandering back, to what it must have been like in 1942, the day that the torpedoes from USS Seawolf found their mark and sent Sagami Maru to the seabed. Seawolf had already sunk the Gifu Maru in more open water around the mouth of the Gulf of Davao. But the bravery of the submariners to come so far into the heart of Japanese occupied territory and attack major shipping this close to shore installations is something I find hard to imagine. This sense of history and past events that so many of South East Asia's shipwrecks evoke in the minds eye of a diver is one of the strongest things motivating us to technical dive. Visiting such places is a privilege.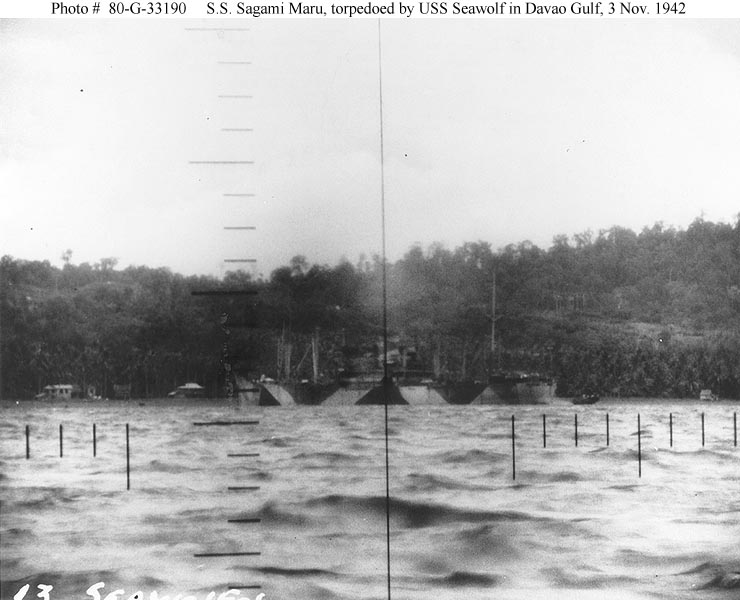 The dive trips here then, were a very worthwhile experience. We had a ship with a history attached ( see Carlos link if you didn't already ), deep enough and tricky enough to be a diving challenge, mixed with an outstandingly well run and friendly host dive shop. All this within minutes of a comfortable and well developed, international gateway city full of great restaurants… Not long after this our overseas ventures to Sri lanka and the Java Sea tended to steal the limelight and we have neglected Sagami Maru, but it would be nice to think about a return.
A sad footnote to all of this is that a week after our last trip, there was an explosion on the surface over the wreck involving Mario and his men. Several were killed or seriously hurt. What exactly happened has never been known to me. It's speculated that they pulled up old ordinance off the wreck, or recovered something pressurized that gave way. Possibly even one of their own old scuba tanks failed. Who knows. For sure it highlights the terrible risks some people have to take to earn a living in this country. We ourselves are just fortunate it didn't happen when they were tied off at the back of our dive boat.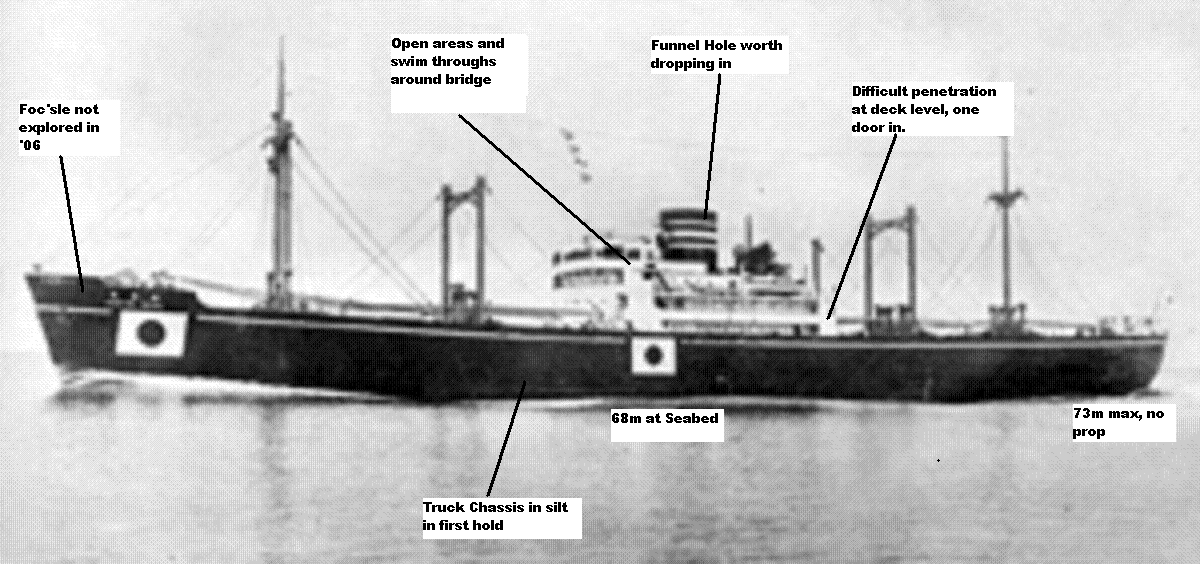 Photos above are a shot of the camouflaged Sagami Maru at anchor - through the periscope of the USS Seawolf just as she fired her torpedoes, and a picture of her during peace time with a few notes appended of what we saw on the dives.