The transition from tourist cavers to fledgling explorers began in February 2009 for Ralph Joerger and Dave Ross. A large, and even now, ongoing part of that is learning to deal with the local formalities and in some cases, abnormalities.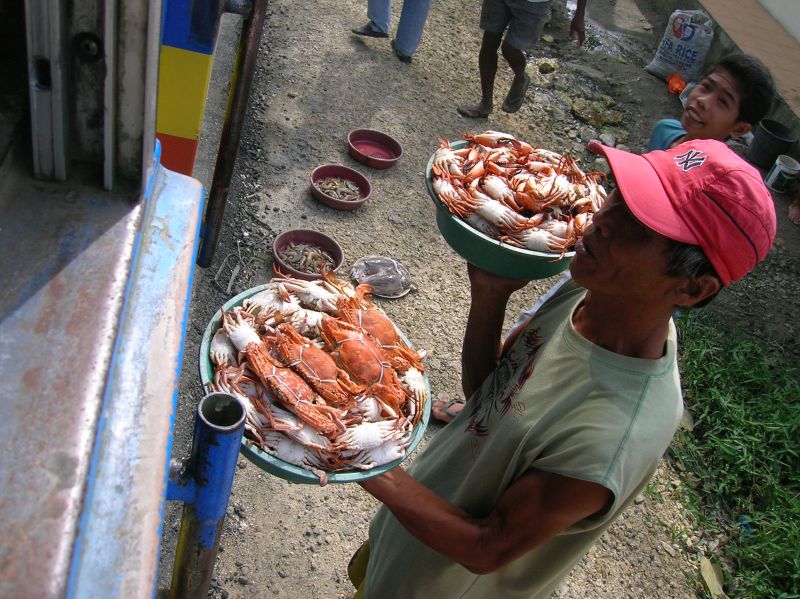 A case in point being Hinabangan Municipality in Western Samar where we needed police clearance to go off-piste. Parts of interior Samar had active cells of New People's Army insurgents at the time, which while typically not dangerous to foreigners, did mean it was likely you would meet military patrols there to control them who wanted an official piece of paper stating the purpose of your visit.
So pulling up outside Hinabangan Municipal Hall in a motorized tricycle, we found the façade of the building disturbingly full of fresh bullet holes and with its front doors blown off. This local seat of government had suffered a grenade attack the month before, clear testimony to the existence of one of several private political armies still around in Samar. Nervous, we got in and out as fast as we could, all set with our $2 police clearance in hand....
Equally important at the village level are the Barangay Captains. A Barangay is the smallest administrative unit in the country, and each has an elected Captain who arbitrates and holds sway over local issues. They hold a great deal of power, and could deny or grant access to wherever we wanted to go. We always had to introduce ourselves when entering their area of control. Having these men or women on our side has turned out to be crucial, though it may mean a couple of hours of polite business lunch to make friends. In rural areas these local officials are of extremely modest means and learning to smile happily at a plate of fish heads is a skill that needs to be acquired. Ralph is very good at this and we have not yet found something he will not eat. This hospitality though is sincere and these experiences are very enlightening.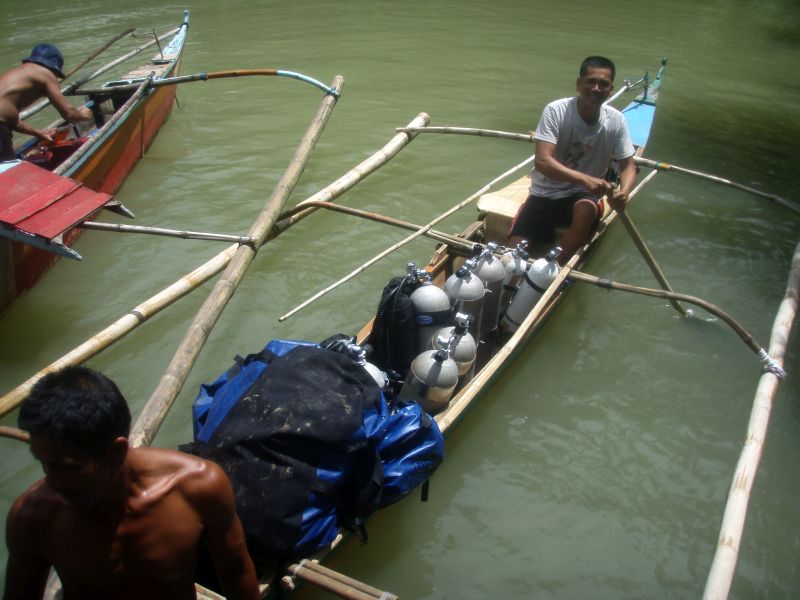 Traveling to and accessing the sites we wanted to explore was also rough. Hours in broken old buses, backs of trucks, various versions of motorcycle transport, dugout canoes, and hard hikes are all part of the package. Once we were out of range of the relative comfort of Catbalogan City, accommodation defaulted to a homestay in a tiny town called Calbiga, with rats in the bedrooms the size of small dogs. In spite of this, we were starting to get what we wanted, and even though we were wishing we had a clean bed at night, a steak instead of a plate of pigs lips, and a cold beer instead of a warm flat Coke, we were becoming enthusiastic about future prospects. Based on just freediving, Maliliaw Spring, Duloy, the impressive Balogo, and Bucalan Spring all looked like they had something for us. Joni had done well, and it was time to go forward with actual diving later that summer.
By July, Ralph, Dave and again Steve Cox had coordinated schedules, arranged for our own vehicle and driver, and made some decisions on how things were to be approached. Planning had to take in to account the fact that all equipment to support divers (tanks, personal gear, compressor, etc.) needed to travel via boat and car 700km/450 miles and across three different islands to get from Tech Asia in Puerto Galera on Mindoro, to Samar Island.
The idea for this trip was still pretty much a scouting operation to better understand what potential Samar had in terms of cave diving. We also knew this would be the last trip of the year, as wet weather would set in later in the season and keep us away for several months. With time limited to four days on site and six or seven potential leads (Joni had found some more), we reasoned it would be best to fill the car with doubles and plenty of stage tanks and leave the compressor at home.
The trip produced positive results at a few different sites. Maliliaw Spring, the cleanest-looking but most remote of our leads, started well but terminated in a dry chamber with no exits after about 60m/180 feet of line was laid. Nice but hard work, this site being fully two hours ( each way ) drive on one of the worst roads in the Philippines plus a tough hike, assisted by indestructible hired porters, but work nonetheless.
Duloy Spring by contrast is right by the roadside, and despite its daunting-looking high flow entry, has clear water and offers a short but enjoyable cave dive that would be a great orientation to conditions for new divers to the area. We know it now to be fully explored with a length of 97m/317ft, long since eclipsed by other caves but at the time it was our first real find.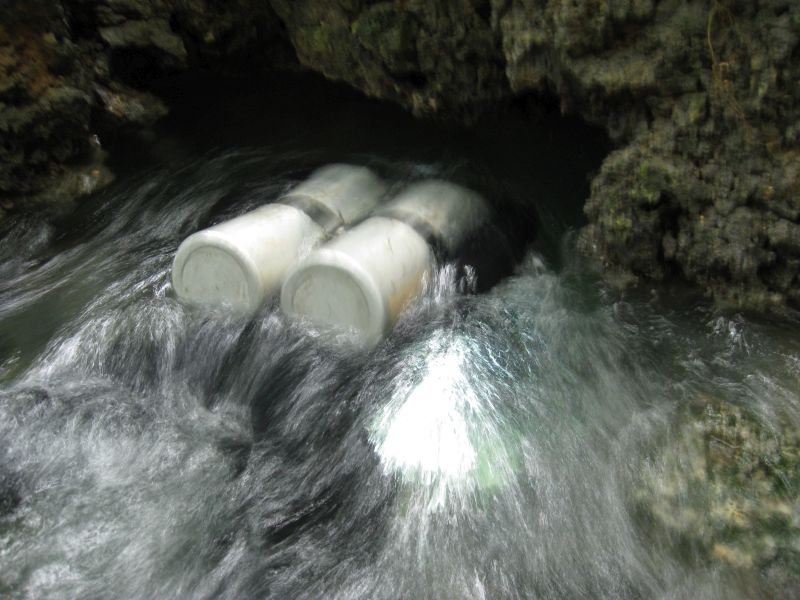 Our final diving efforts were at Balogo Source and the imposing looking Balogo Spring nearby. The Balogo Source is the point where the small Balogo River begins. These dives required loading all the divers and gear into small motorized canoes for a 30-minute ride upriver to the place where the water emerged from the ground. The recon dives in the Source found a springing conduit, but the water was far too dark to make following the flow effective or safe.
Downstream from the Source is Balogo Spring, which is the water supply for several municipalities in the area. These dives required a 100-meter surface swim through an impressive cavern to a point where there are two separate cave tunnels. Both these cave passages had low visibility and narrow passages, making exploration challenging. We didn't reach the end of either tunnel on this trip so Balogo Spring remained on the "to-do" list.
By this point in time Joni Bonifacio had taken us to 11 potential sites, of which three had some level of diveable cave passage. Not the best success ratio, but at the end of this third trip we were all highly encouraged by what we'd managed to uncover, especially Ralph, who after so many years of trying finally felt that in Duloy, he'd found a proper cave dive of his own. So delighted was he with the discovery that he sallied forth into Catbalogan City that last night, found himself the kind of local Karaoke bar that no right minded person would ever go into, and had himself an Oktoberfest. After the celebrations, we left Joni to carry on with his research on the ground during the off-season, and began to plan and ramp up for more dive-focused trips the following year. How this all unfolded will be discussed in further articles.